New York Times Portraits of Grief
FINDING A HOME
Gerard P. Dewan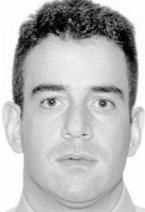 Gerard P. Dewan was not a New Yorker, and he would have told you that. He was a Bostonian, the son of a firefighter, who in turn was the son of a firefighter. But there were no jobs going in the Boston Fire Department, and so he took the southbound bus and began his career in New York five years ago.
Gerry Dewan, 35, just wanted to be a firefighter, said his friend and landlord, Sean Cummins, also a firefighter. He was one of the first rescuers to enter the twin towers. Along with 11 others from Ladder Company 3/Battalion 6 in Lower Manhattan, he never made it out.
He is the first member of his family to die in the line of duty, Mr. Cummins said. He was not married, but had always planned to have children and move home to Boston. In the meantime, he found a family in the Cummins household in Rockaway Park, Queens, where he rented a basement apartment. Two nights before the calamity, he was helping write the names of the Cummins children on their crayons for the first day of school. "He finally found a home with us," Mr. Cummins said.

9/11: The Reckoning