New York Times Portraits of Grief
RESCUING AND CALMING
John D'Allara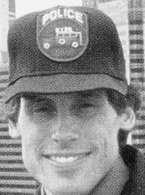 John D'Allara, a member of the New York Police Department's emergency service office in Harlem, was a rescue specialist on the scene at the World Trade Center on Sept. 11. During his 14 years on the job, he pried, cajoled or otherwise extracted a broad array of life forms from danger, dealing with a menagerie of exotic animals. Spider monkeys. Bats. Squirrels. One time, he saved an iguana. But he helped plenty of people, too.
"One time, we had a kid trapped in an elevator, with his head trapped between a beam and the elevator," said Sgt. Lee Hom, who worked with Officer D'Allara for five years in the late 1980's and early 90's. "He kept the kid calm, and we got him out."
A physical education teacher before he joined the Police Department, Officer D'Allara, 47, who lived with his wife and two sons, Johnny, 7, and Nicholas, 3, in Rockland County, intended to go back to teaching. "He loved the Police Department," said his brother, Dan. "But he was counting his paychecks to retirement."

9/11: The Reckoning