New York Times Portraits of Grief
A LIFE WITH THE CLAM
Larry Curia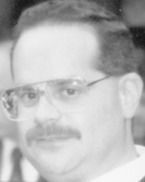 The Cantor Fitzgerald Web site has listed memorial services for about 200 people recently, but one name leaps out: "Larry (the Clam) Curia." Mr. Curia, a broker, according to his longtime friend Peter Garofolo, used that name on the Bloomberg business site, too. The genesis of the nickname? There was a time, Mr. Garofolo explains, when Mr. Curia, 41, was very uptight. But that time seemed to be over.
"We live in a decent-sized house," said Linda Curia, of the Garden City, N.Y., home she and the Clam shared with their two children, a son, 4, and a daughter, 8.
"But there's no furniture. He always said he didn't want to live in a museum - he wanted for neighborhood kids to be able to Rollerblade and bicycle through it. My living room is completely empty except for two folding chairs and a computer. He wasn't materialistic; it was more important to him that the kids have a great time."

9/11: The Reckoning