New York Times Portraits of Grief
A 'TIP TOP' LIFE
Jonathan Connors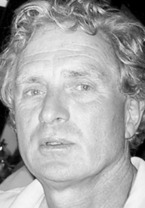 His license plate was "Tip Top," which was also one of his nicknames and his reflexive response to "How ya doing?" His other nickname -- having at least one is practically a prerequisite on Wall Street -- was "J.C.," short for Jonathan Connors, a 55-year-old senior vice president of Cantor Fitzgerald who loved to make money, wear Armani, dance the Lindy, dine at Nobu and, whenever possible, be surrounded by strong, independent, beautiful women.
His wife, Susan Connors, said he greeted her not with a peck but with a full-blown kiss. He liked to hold her hand tightly. When she was diagnosed with Parkinson's disease, the two dug in together to fight off the effects. "Whatever he did," she said, "it turned to gold, never silver."
Soon after the World Trade Center bombing in 1993, Mr. Connors constructed a diorama of his brush with terrorism. In a red- framed box, he displayed mementos of that day -- the soot-covered shirt and tie he wore, the cashmere scarf he used as a mask, his train ticket, the next day's front page. He mounted the box on a wall in his house. It was, his wife said, an act of catharsis, remembrance and defiance all at once.
Mrs. Connors recently took it down. "I couldn't stand to look at it," she said.

9/11: The Reckoning