New York Times Portraits of Grief
THE BEST WAY TO KNOW GOD
Christopher Colasanti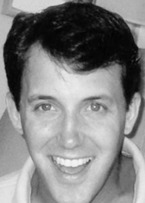 One phrase in a book on grieving that someone gave her after her husband, Christopher Colasanti, was killed in the World Trade Center attack has stayed with Kelly Colasanti: "The best way to know God is to love many things."
Kelly and her two daughters went to Liberty State Park, where a memorial wall has been set up for victims, and she wrote, "Chris loved many things. We love you. We miss you. You're with us."
It is a small tribute to the love of her life, to the end of what friends and neighbors often cited as the perfect family. Here are some of the moments and familiar details that stick in her mind: Christopher grew up in South Orange, N.J. and met Kelly in high school. They went to the prom together. He graduated from Dartmouth and became a trader at Cantor Fitzgerald. The young family lived in Hoboken. The night before the attack, Mr. Colasanti gave their girls, Cara and Lauren, their baths. Then he showed Cara his baseball card collection. "We'll be a strong family, the three of us," Kelly said. "We have to live this way because he was so great. We can't let it not be great here because it was so great."

9/11: The Reckoning