New York Times Portraits of Grief
A LOYAL SCOUT
Michael A. Boccardi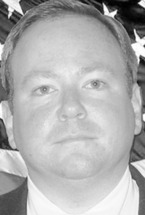 Taking more than a dozen 15-year-old Boy Scouts to the wilds of New Mexico for a 10-day trip on horseback might not sound like the ideal trip for some people, but it was for Michael A. Boccardi. "It was a once in a lifetime thing," said his friend Ed Maselli, an assistant scoutmaster of Troop 40 in Mount Vernon, N.Y., which Mr. Boccardi led as scoutmaster. "Snakes, bears, the whole nine yards. He loved it."
Mr. Boccardi, 30, worked as a senior vice president of institutional relations at Fred Alger Management.
Scouting captured Mr. Boccardi's imagination from the age of 10; he had been an Eagle Scout himself. A typical month might include 20 nights devoted to various activities and events, according to the Westchester-Putnam Council of the Boy Scouts of America.
Scouting was on his mind on the morning of Sept. 11. From his office, he sent an e-mail message to a mother of one of the boys just before 9 a.m. It was the troop's revised newsletter.

9/11: The Reckoning