New York Times Portraits of Grief
A HIGH FORM OF WISDOM
David S. Berry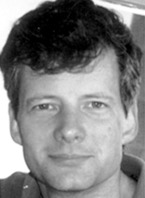 David S. Berry's three sons, Nile, 9, Reed, 7, and Alex, 5, have clear memories of basking in their father's full attention. When it was raining recently, Alex pointed to the water running down the gutters in Park Slope, Brooklyn, where the family lives, and said to his mother, Paula Berry, "Remember when we came home from the play and Daddy made those boats and floated them down the river?"
On another rainy day, Mr. Berry, 43, the director of research at Keefe, Bruyette & Woods, was playing with the boys at the family's summer house.
"It was raining stunningly hard, and all the kids, of course, were running around the house naked," Mrs. Berry said. "David was running with them. Water was just coming down in buckets, and they remembered how it was coming down the gutter, like a faucet. David was putting his head into the gutter."
"In playing with the children, there was no distraction," she said. "He was nowhere but right there in the moment, right there. He knew where to put his energy, and that's a form of wisdom."
"It was so elegant for him, like a fine math proof, simple and just right there, and very clear."

9/11: The Reckoning