New York Times Portraits of Grief
SCOUTING HOCKEY TALENT
Mark Bavis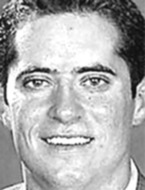 Mark Bavis, a hockey scout, was on his way to work on Sept. 11, flying west for the Los Angeles Kings training camp, where he would be checking on the progress of players the team had drafted on his advice. He took United Airlines Flight 175 from Boston.
Mr. Bavis, 32, had starred for the Boston University Terriers from 1990 to 1993. He was "a great defensive forward and a real smart playmaker," said his coach, Jack Parker.
The coach used Mark and his twin brother, Mike, as a team to kill penalties. "The Bavi, we called them," Mr. Parker said. "They were always together."
Mike Bavis, an assistant to Mr. Parker, agreed. "We were very close," he said. "But we were competitive."
The scouting job, after a few years in minor league hockey and turns as assistant coach at Brown and Harvard, delighted his brother because of the travel it involved. "He really enjoyed some of the finer places in our country and loved to have a good time," his brother said.

9/11: The Reckoning