New York Times Portraits of Grief
A STROKE STRENGTHENED HIM
Anthony Alvarado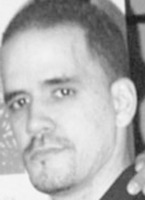 Anthony Alvarado lived for his son. He suffered a stroke when his son was a newborn, and was paralyzed on his right side and lost his memory. It was as if he were a child again, said his mother, Sonia Irizarry. He could speak Spanish, his first language, but had forgotten English.
Ms. Irizarry nursed her son back to health. "Little by little, he came back," she said. After that, Mr. Alvarado could not take his baby for granted.
As the boy, Anthony Joshua Alvarado, now 10, grew older, his father took him everywhere. They walked to Yankee Stadium, not far from their apartment in the Bronx, for baseball games. They played dominoes, they went to the movies, to two amusement parks and to the beach. "My son is a good son, a good dad, a good grandson, a good brother, a good friend," Ms. Irizarry said.
Mr. Alvarado, 31, worked for Forte Food Services, in the cafeteria at Cantor Fitzgerald at 1 World Trade Center. He had planned to interview for another job as a security guard. "He needed more money," his mother said. After all, he had a son to support.

9/11: The Reckoning